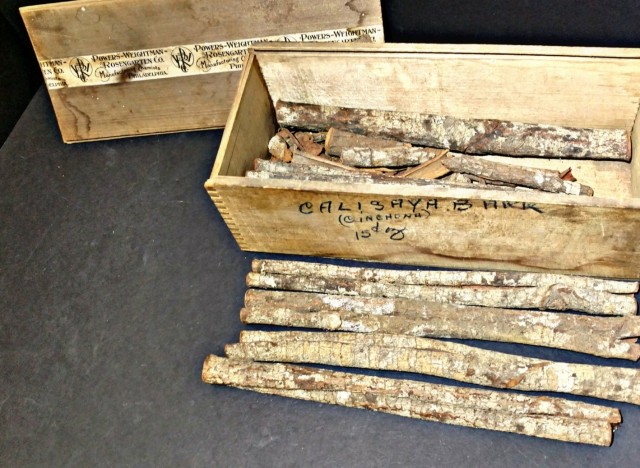 Antique Pharmaceutical 1 lb. Cinchona, Calisaya Bark – 1906 – Contains Original Content
Distributed by the Powers – Weightman – Rosengarten Co. Manufacturing Chemists of Philadelphia. Writing on side of box reads Calisaya Bark (Cinchona) 15¢ 1 oz. Box contains original content.
Cinchona Bark is ideal for increasing appetite; promoting the release of digestive flow; and treating bloating, fullness, and other stomach problems. It is also used for blood vessel disorders including hemorrhoids, varicose veins, and leg cramps.
Wooden box is in fair condition. Wood has some splits and chips due to age. Box measures 10.75" x 4.75" x 3.5".
NOT TO BE CONSUMED. For collector purpose only. While herbal companies remain to sell Cinchona to this day for herbal remedies, the FDA recently banned it as a cure for various conditions due to the negative side effects. Some bad reactions have been fatal.
Available in our Etsy shop!